Skip to product information

"My mother is 84 we both take Sea Moss gel. We have lost weight, energy, no more heartburn. The doctor even lowered my mother's medication"
-Damon P.
Verified Customer
Sea Moss Gel
Infinite Age's Sea Moss Gel is a natural and effective way to support your health. Our premium supplement offers weight control benefits and promotes improved skin, hair and nails. Shop Now!
Choose Your Package
Select your money-saving option below:
Get it by Sat, Sep 30
View full details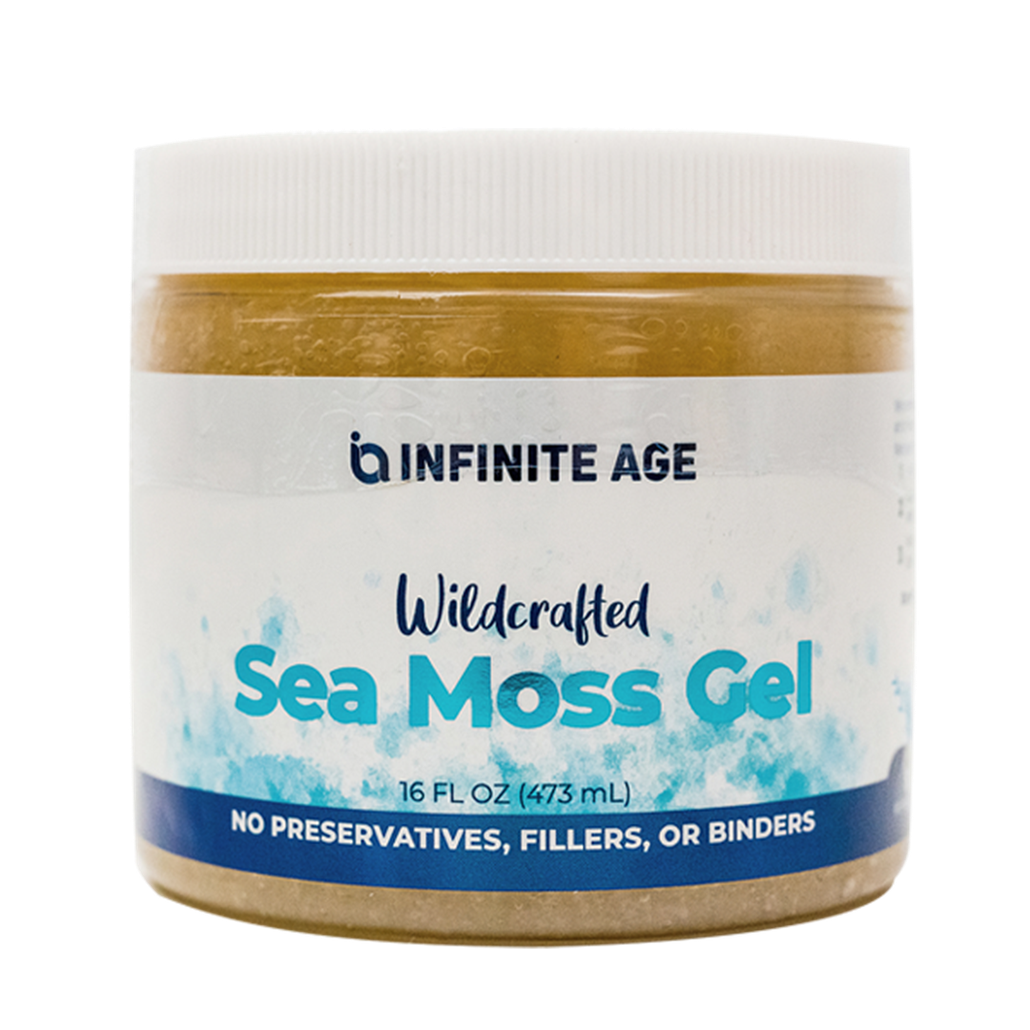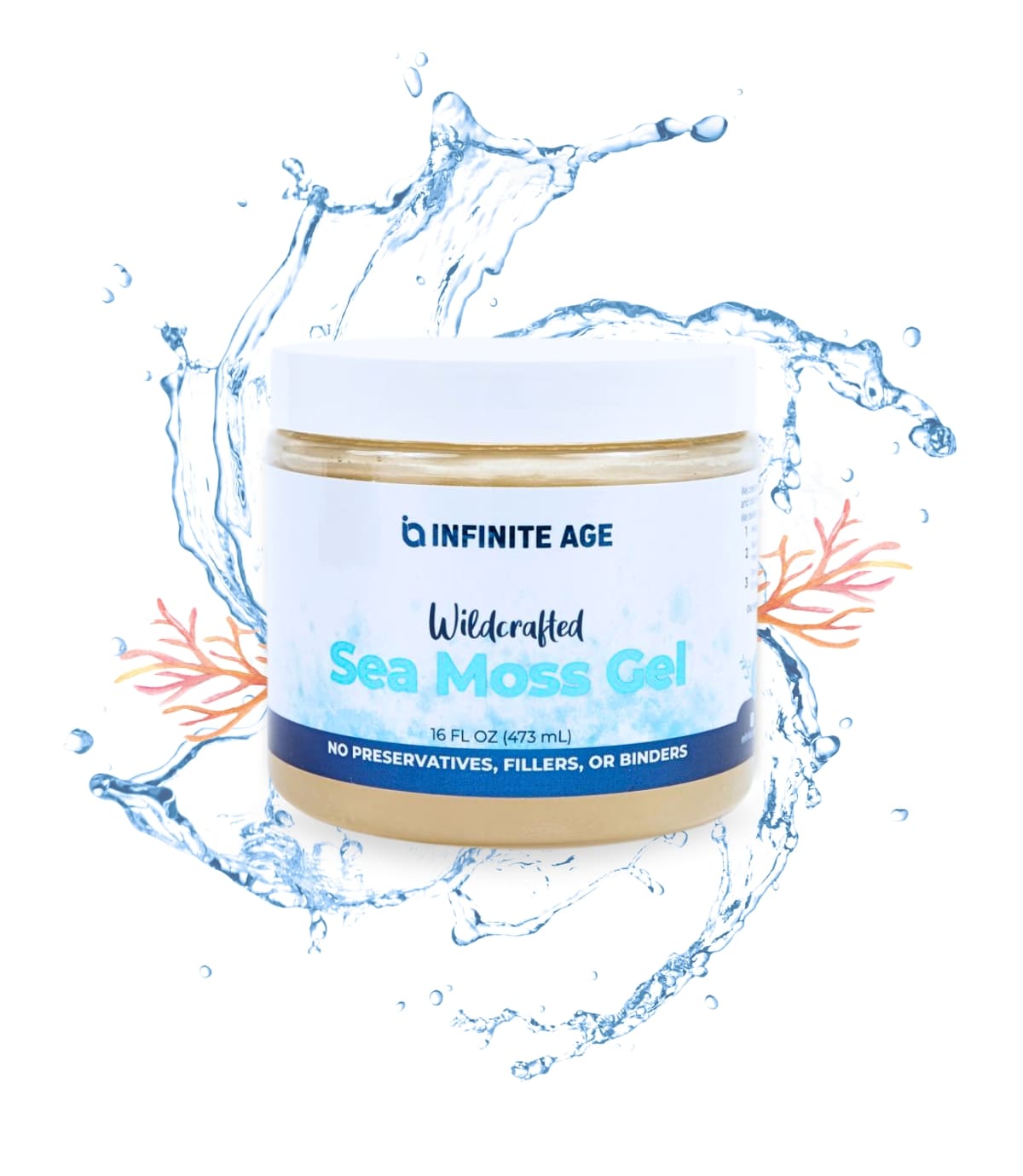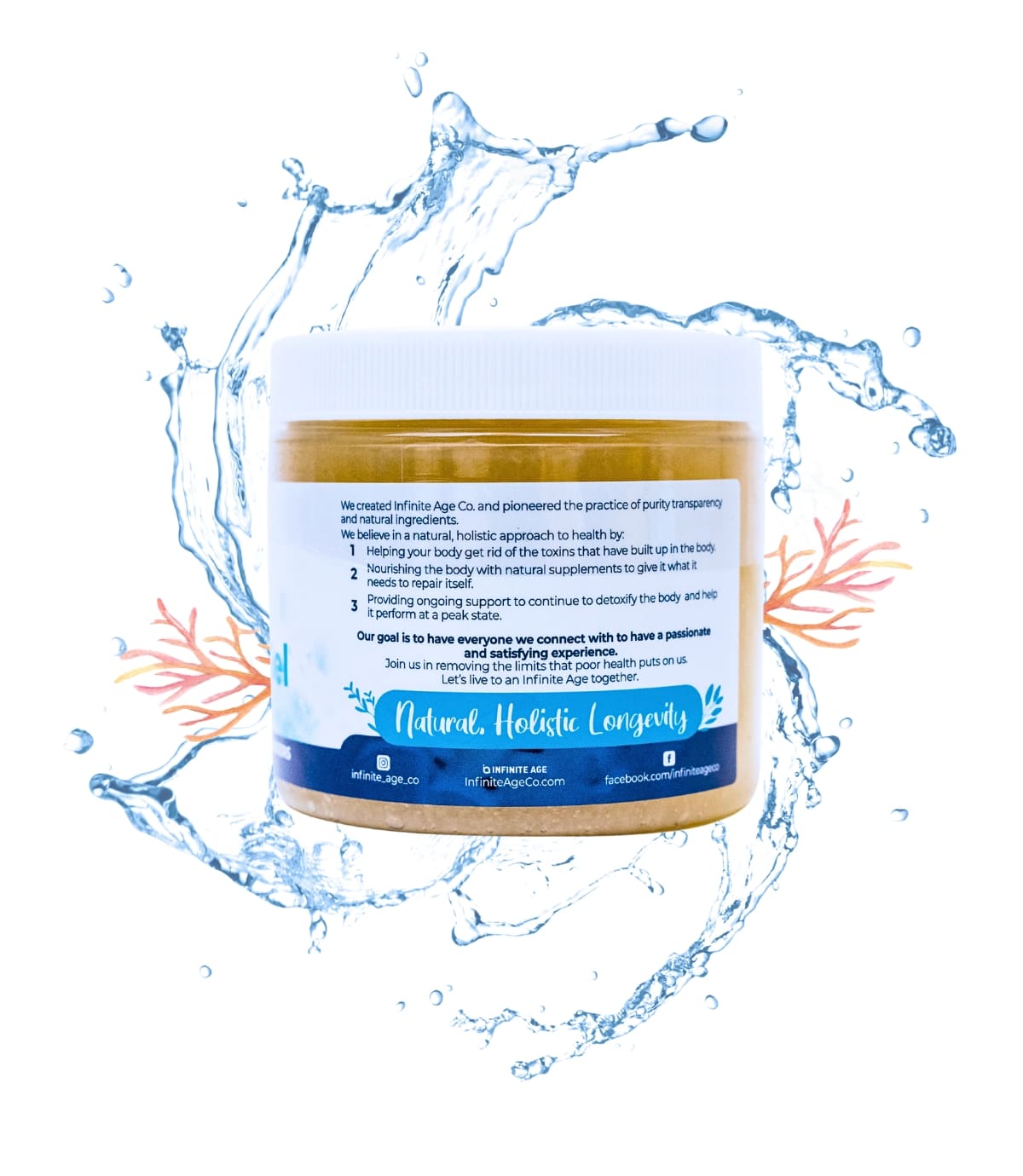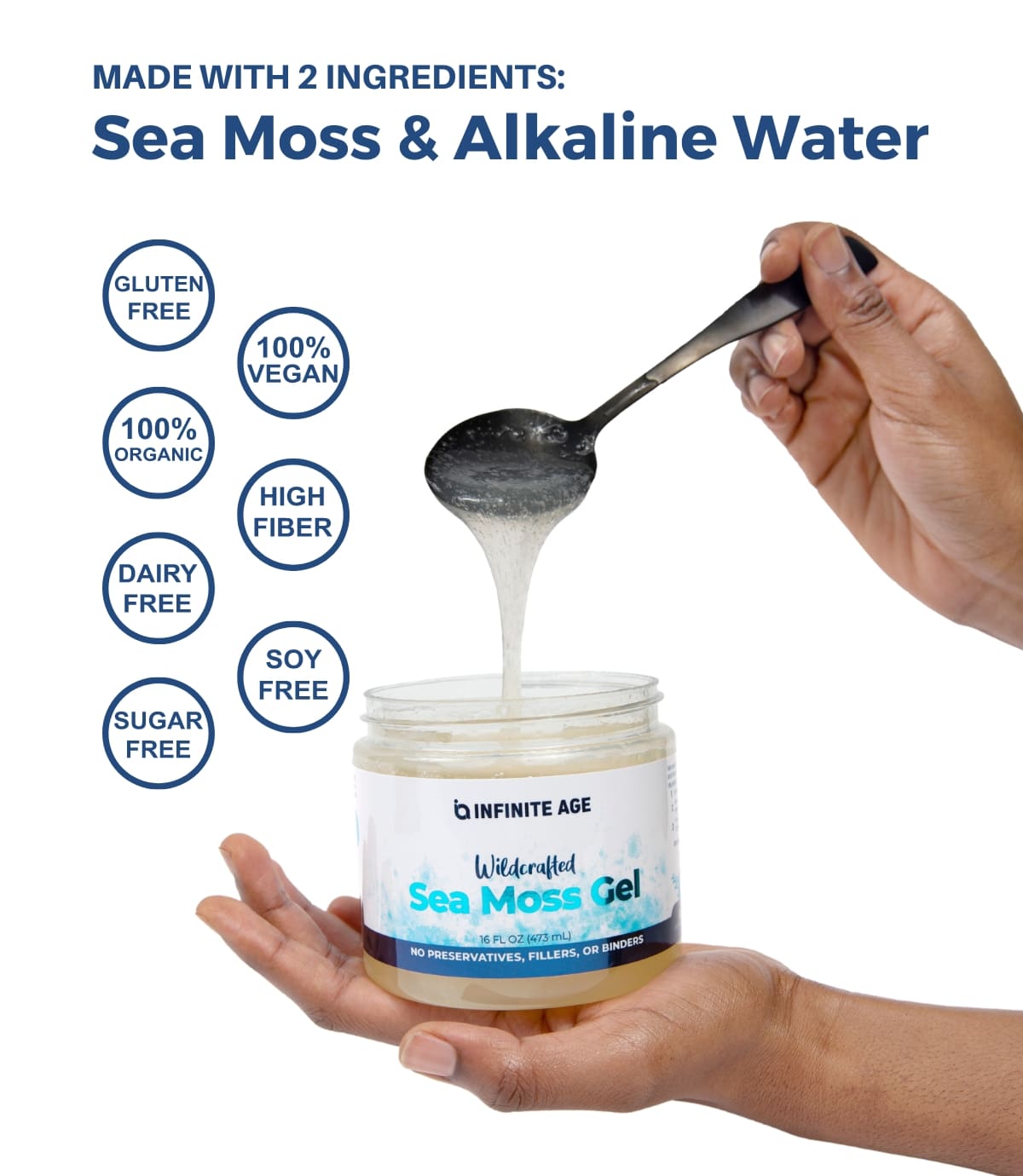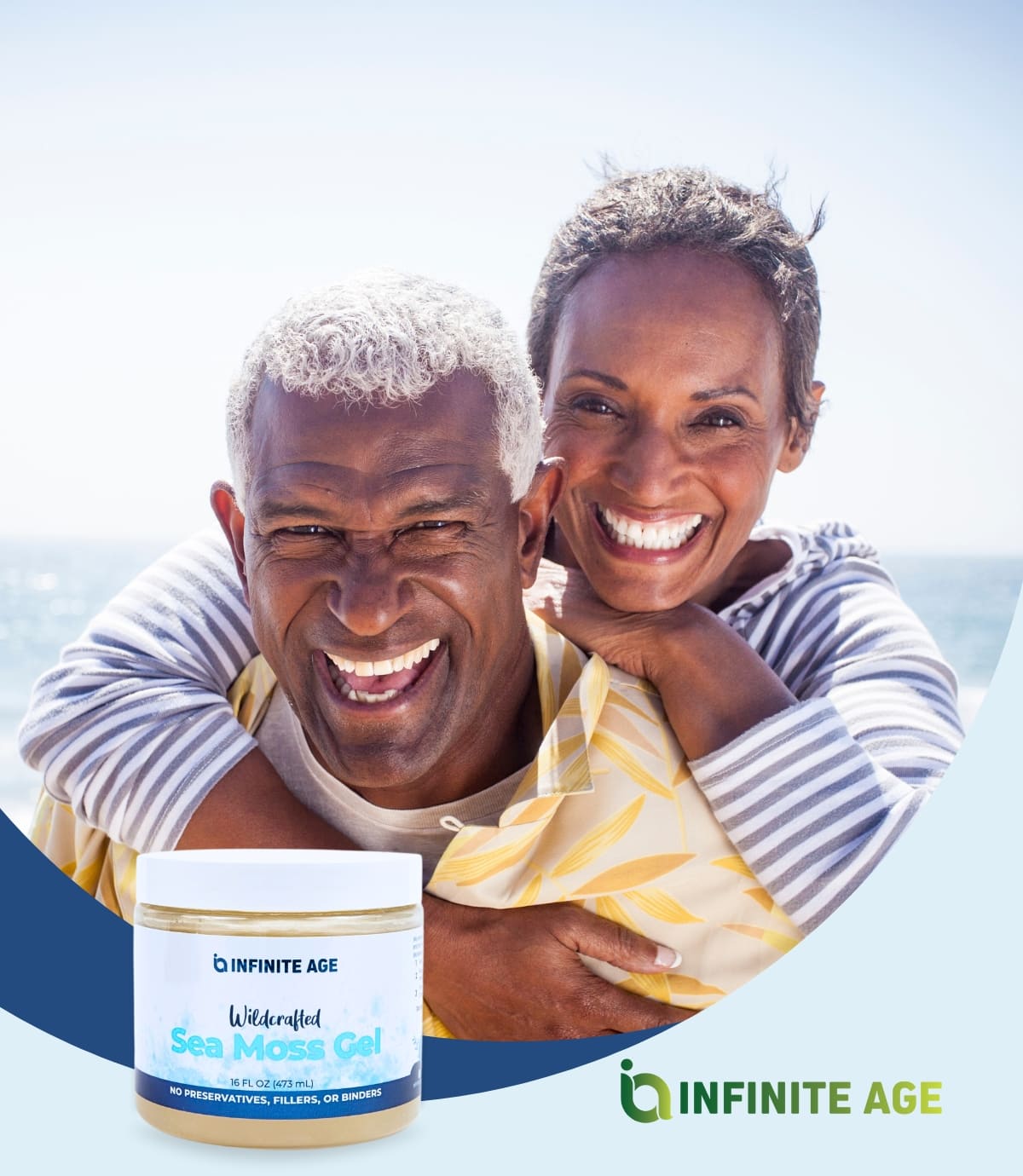 Our "All-Natural Sea Moss Gel" Wrinkle-Proofs Your Skin, Fortifies Your Gut Health, & Boosts Energy Levels
2 Tablespoons Daily Helps…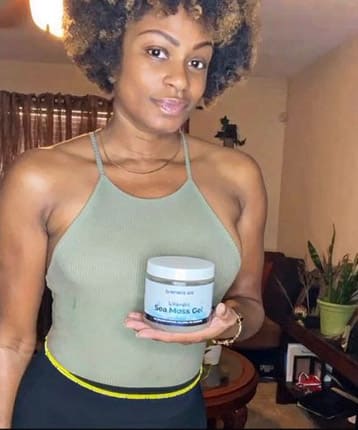 Weight Loss
Feel leaner, happier, and more confident
Sea Moss Gel revitalizes your digestive system helping eliminate junk food cravings and blood sugar spikes. A healthy digestive system means better nutrient absorption helping you stay fuller longer.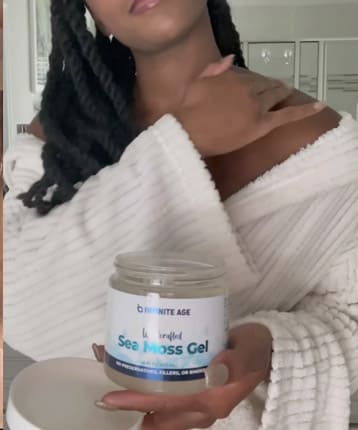 Pain Relief
Say goodbye to achey joints, muscles, and knees
Sea Moss is loaded with anti-inflammatory compounds that help extinguish the inflammatory wildfire that's scorching your vital organs, joints, and tissues. 2 tablespoons is all you need to feel the soothing sense of comfort and relaxation that you deserve.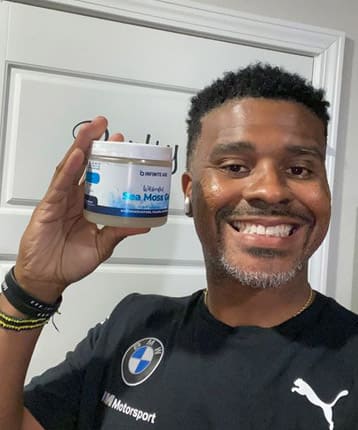 Gut Health
Good health starts with the gut
Your gut is ground zero for a happy healthy life. In fact, your gut affects your entire body. A sick gut means a sick body. Sea Moss Gel contains prebiotics that grow the healthy bacteria in your gut. It also contains mucilage - a gel-like materials that coats your intestinal lining and soothes intestinal inflammation and controls bad bacteria.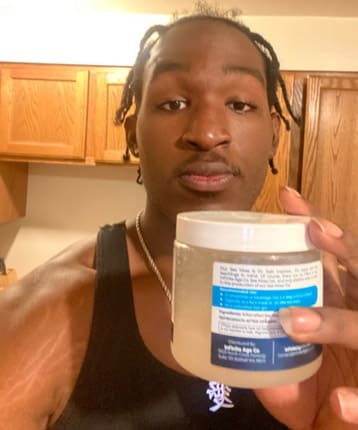 Healthy Blood Sugar
Achieve healthier glucose & A1C readings
When your digestive system malfunctions, it makes you crave sweets and spikes glucose. This leads to a never-ending battle of trying to control blood sugar imbalances. Sea Moss Gel helps control sugar & carb cravings. It also slows down your digestive system, which slows down the release of glucose into your bloodstream. More control over glucose means more control over insulin problems.
Optimize your nutrient delivery system
Boost energy levels with improved blood flow
Bring the "zest" back into your bedroom
Ease the strain on your heart
Regulate A1C & glucose levels
Normalize your blood pressure
Increase serotinin for a happier and more balanced mood
Reclaim your zest and liveliness
Strengthen your hair, nails, and skin for a more youthful, confident appearance
Lower LDL cholesterol levels
Helps unlcog arteries of deadly plaque buildup
Try Risk-Free 60 Day 100% Money Back Guarantee
Ships: Within 24 Hours |
Stock: 58 Bottles Remaining
The Planet's Most Nutritious Sea Moss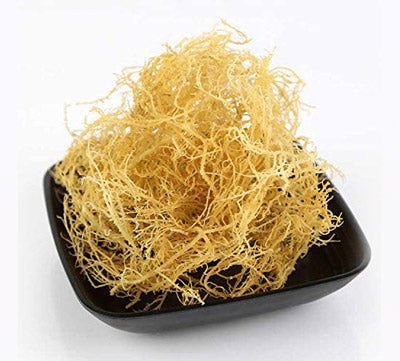 Our Sea Moss is harvested on the equator where the sun's UV rays are the strongest. Stronger UV rays means more nutrients.
Boost your all-day energy, stamina, & endurance
Reverse accelerated aging
Rebuild your aging muscles, tissues, and organs
Try Risk-Free 60 Day 100% Money Back Guarantee
Ships: Within 24 Hours |
Stock: 58 Bottles Remaining
SEA MOSS GEL

Other Brands
Frequently Asked Questions
Yes! Infinite Age Sea Moss Gel is safe to take with prescription meds. Although, we suggest you speak to your prescribing doctor before taking Sea Moss Gel.
Of course. In fact, taking Sea Moss with other supplements – like our Black Seed Extract – helps improve the effectiveness of Sea Moss Gel.
It takes around 2-4 days to receive your order of Sea Moss Gel. All orders are shipped USPS priority mail.
Sea Moss Gel lasts in the refrigerator for 4-6 weeks. And will last in the freezer for up to 6 months.
Yes! Our sea moss is never cooked and completely raw. It's 100% unprocessed.
Since we're running a special offer, we've seen most customers take advantage of our rock-bottom low price and order our 6-jar option for the largest savings. Also please remember that "stock-outs" put you at risk to miss out on your daily nutrients from Sea Moss. That's why we highly recommend you order as many jars as you can afford with today's special offer.
Customers have reported experiencing the benefits of Sea Moss Gel within 2-5 days.
Customers have reported experiencing weight loss and appetite suppression as benefits of taking our Sea Moss Gel.
We've seen that taking it in the morning has yielded the best results.
Unlike other Sea Moss Gel on the market, our Sea Moss Gel is blended into a perfect smooth gel.
Our Sea Moss is harvested from Ecuador
You can preserve large amounts of our Sea Moss Gel in your freezer for up to 6 months.
Yes. Each batch of raw Sea Moss that we import is tested for heavy metals, arsenic, mercury, and other contaminants.
Our Sea Moss Gel is non-returnable due to its perishable nature. If the product arrives damaged, please contact customer service immediately to address the issue. Please review product details carefully before purchase.
Infinite Age sea moss grows off the coasts of Ecuador where the direct sunlight synthesizes more nutrients than other sea mosses. It's also loaded with natural iodine that boosts your metabolism, energy levels, and fat loss. And with so many people low on iodine, Infinite Age sea moss is a perfect source of nature's purest iodine.